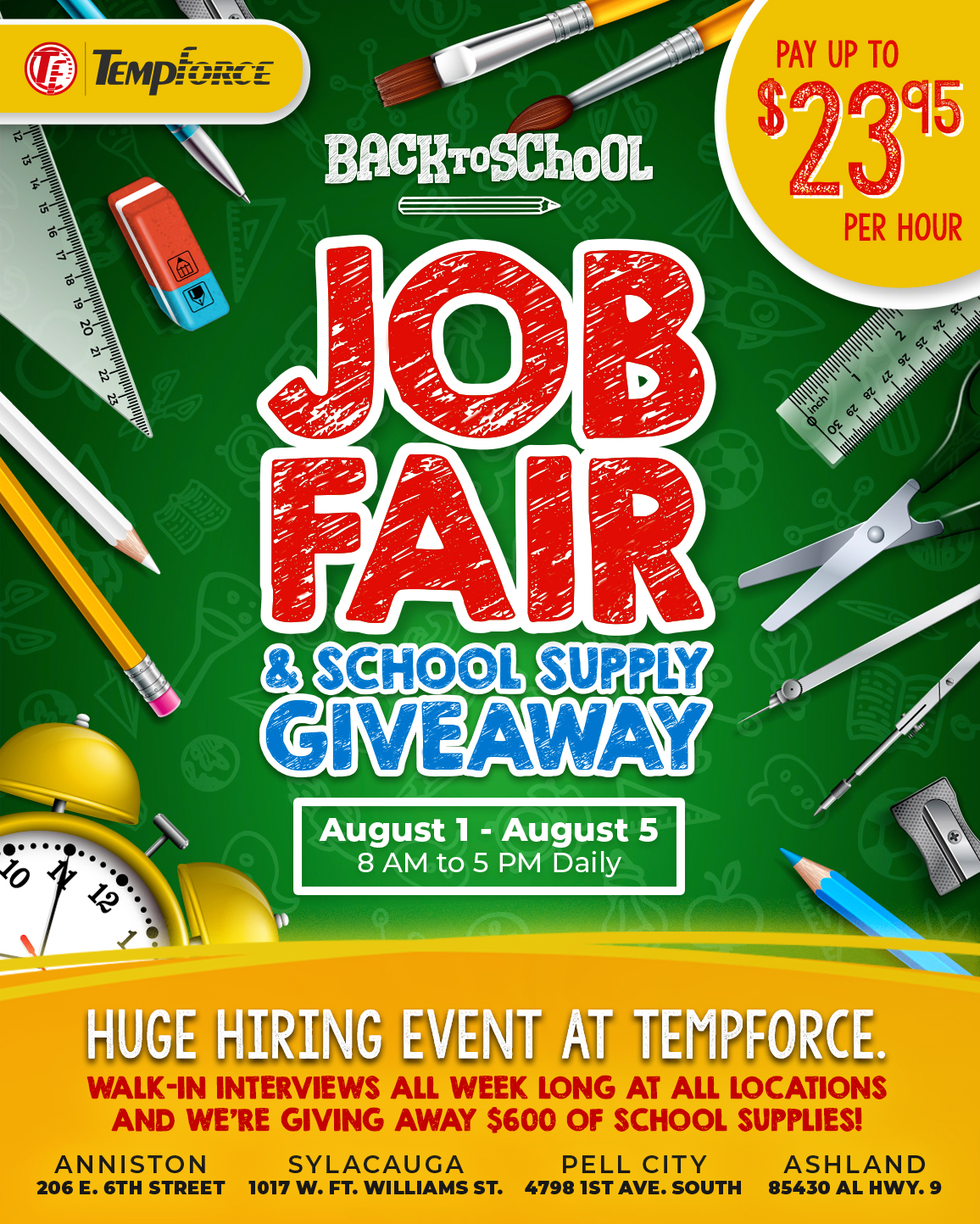 Back to School Hiring Event & School Supply Giveaway!
Back to School time? Join TempForce to get Back to Work!
Our Back to School Hiring Event starts AUGUST 1ST! 
The kids are headed back to school, and you know what that means. It's finally time to kick that job search into high gear and get that new job. Nope, scratch that. More like NEW CAREER.
From August 1-5, TempForce will be taking ALL WALK-IN INTERVIEWS at ALL LOCATIONS. We're hiring for over 100 full-time positions, all schedules, starting pay up to $23.95 Per Hour.

Free School Supplies!
Everyone who applies, updates their application in person, or refers a friend will be entered to win one of our four $150 School Supply Shopping Spree prizes.
Hundreds of Jobs Available NOW.
TempForce has over 100 industrial positions available now in Anniston, Oxford, Eastaboga, Talladega, Lincoln, Pell City, Sylacauga, Ashland and beyond. Pay up to $23.95 Per Hour!
Come apply for these positions and MORE:
 Assemblers, Painters & Welders for New Flyer: Anniston, $17-$23.95/Hr.

 Aer-Flo Sports Production: Anniston, $14-$16/Hr.

 Forklift & Warehouse for BR Williams: Piedmont, $13+/Hr.

 Auto Production Team for IAC: Anniston, $13.39-$14.23/Hr.

 Auto Production Team for Kasai: Talladega, $13.50-$14.50/Hr.

 Hand Sanders for Cabinet Team: Eastaboga, $12-$12.75/Hr.

 Fill Line Operators: Pell City, $15.40/Hr.

 Forklift & Tow Motor for Verst: Lincoln, $15.50/Hr.

 Entry-Level Packers: Pell City, $10-$10.50/Hr.

 Welders, All Skill Levels: Pell City, $13-$18/Hr.

 Cabinetry Production Associates: Ashland, $11-$16/Hr.

 Food Processing Team: Ashland, $12.35-$13.50/Hr.

 Manufacturing Associates for Nemak: Sylacauga, $15.12/Hr.

 Machine & Weld Operators: Sylacauga, $14+/Hr.

 Entry-Level Assemblers: Sylacauga, $12.50+/Hr.
Event Locations:
📍 TempForce Anniston Branch: 206 East 6th Street, Anniston, AL 36207
📍 TempForce Pell City Branch: 4798 1st Ave. South, Pell City, AL 35125
📍 TempForce Sylacauga Branch: 1017 W. Ft. Williams Street, Sylacauga, AL 35150
📍 TempForce Ashland Branch: 85430 AL Hwy. 9, Ashland, AL 36251
Can't make it? Call your local TempForce Branch instead or apply online!
Anniston: 256-236-8367
Pell City: 205-884-4357
Sylacauga: 256-245-8367
Ashland: 256-396-1800